Jemima Kirke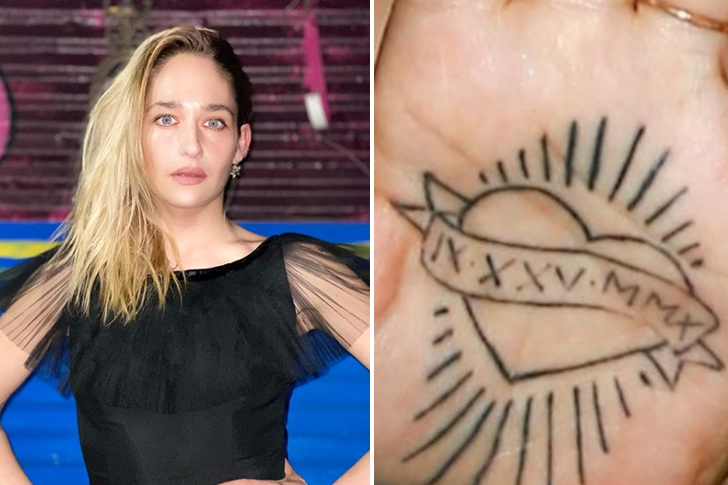 If you've seen the HBO series Girls, then you might know our next celebrity, Jemima Kirke. However, besides being an actress, Jemima is also an avid art enthusiast. So much so that she even pursued a degree in Fine Arts when she was in college. Moreover, this probably explains her fascination with elaborate and meaningful tattoos.
The English-American actress has 26 tattoos, and each of them is unique in its little ways. However, the one tattooed on the palm of her hand has got to be one of the most eye-catching. The design isn't very far from the usual, with a heart-shaped centerpiece and lines poking out to mimic a shining light. However, what makes this tattoo special are the roman numerals written across the heart pointing to the date her daughter Rafaella was born. Jemima also has a series of chevron lines inked on her fingers as a reminder to keep moving forward.
Jenicka Lopez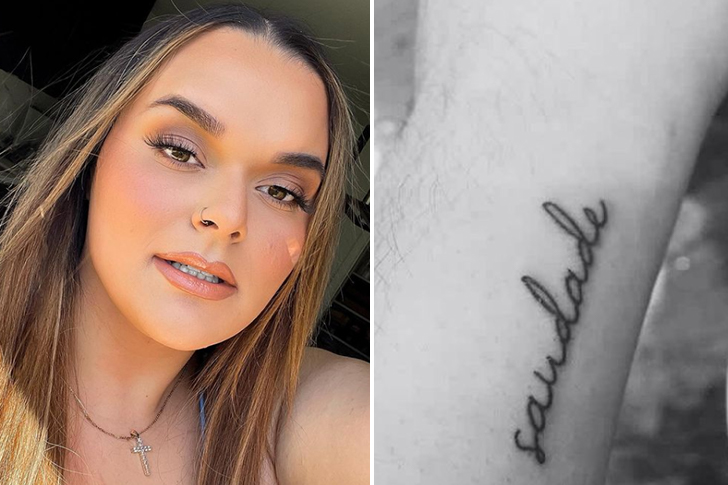 Most of us could probably agree that our parents are superheroes. As the saying goes, "nobody will love you in this world like your parents," and Jenicka Lopez knows that all too well.Mexican-American celebrity Jenicka Lopez lost her father in 2009 and her mother in 2012 in a tragic accident. As one might expect, losing both of her parents took a significant toll on her and left a void in her life. Although the singer/YouTuber found ways to move on with her life, she was pretty aware of the hole that the loss of her parents brought her.
Like many others on this list, Jenicka decided to honor and commemorate her late parents by inking their legacies down on her skin. So far, she has two dedicated to her mom and dad. One is an image of two butterflies in mid-flight, reminding her that her mom is always flying alongside her. The other one is a cursive tattoo that reads, "Saudade," which means longing for someone who cannot return. We don't know about you, but it looks like an excellent way to spend her investment money.
Jessica Alba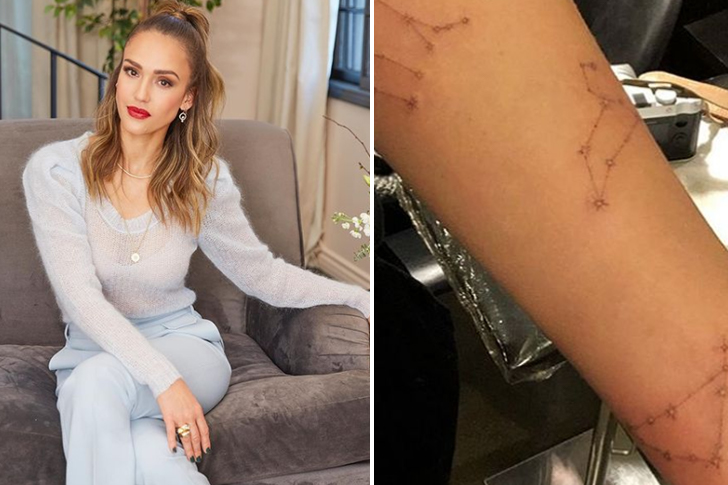 Astrology is an utterly complex yet interesting field of study. Not everyone may believe in it, but it sure gave us so many trends and artistic inspiration. One of them is tattoos. When American actress Jessica Alba searched for an appropriate tattoo to celebrate her three children, she ran straight with their zodiac signs. According to the actress, she was not always into tattoos and even advised fans to think twice before getting anything permanent inked down on their skin.
In the case of her children, however, Jessica knew that it'd be something that will remain special to her all her life. On her left arm, you'll find the corresponding constellations for Gemini, Leo, and Capricorn. However, these are not the only tattoos the actress has. She also has a Sanskrit tattoo that translates to "lotus," which she got after a breakup. Jessica, however, expressed that it wasn't the best investment she made during her youth.
Joe Jonas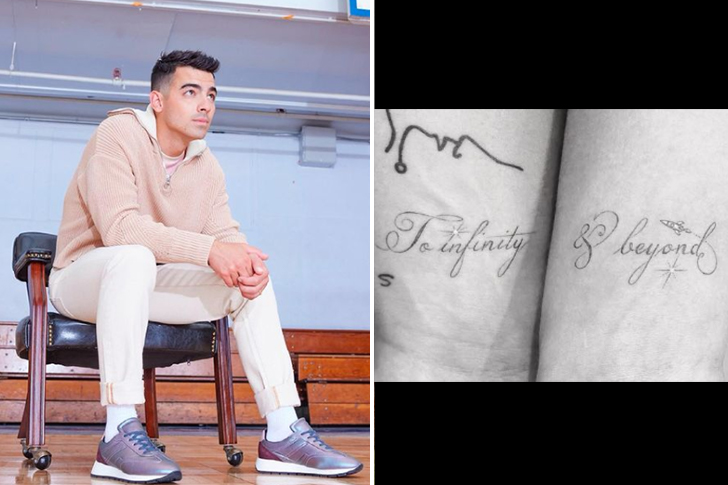 During their early years, the Jonas Brothers portrayed themselves as conservative Christians who like to do everything by the book. However, as time went by, the boys started to develop a more free-spirited mindset that initially shocked fans. Joe Jonas, in particular, has grown out his cookie-cutter image and traded it for a more macho persona. But, of course, nothing says macho more than a plethora of meaningful tattoos.
According to reports, the Cake By The Ocean singer has 20 tattoos all over his body as of December 2020. While many of his tattoos are minimalistic and straightforward, they still hold significant meaning for the singer. Take, for example, and the number 15 inked on his left ring finger. It might just be a number for most of us, but to Joe, it commemorates the day that he and Sophie Turner got engaged. He also has a couple of matching tattoos, which he shares with his brother Nick, and another one, which he shares with his wife, Sophie. Overall, we think his inks are a great way to spend his investment money.
Jordyn Woods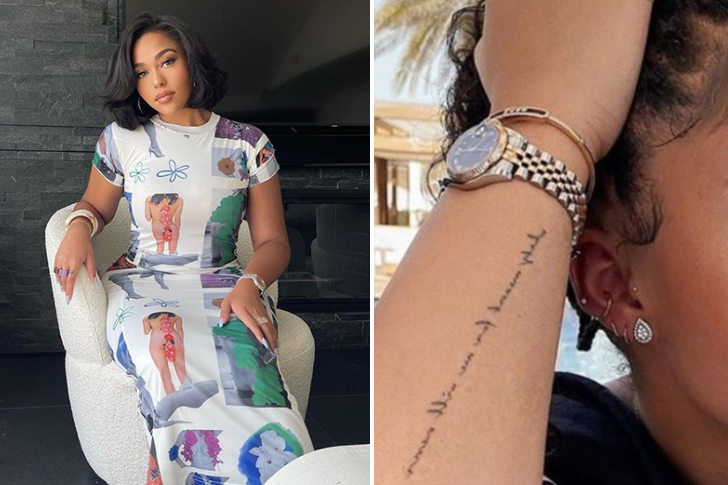 It's no secret to every pop-culture enthusiast that Jordyn Woods has had a tumultuous few years under the Hollywood spotlight. However, if you're not aware, Kylie Jenner's ex-BFF got caught in a love triangle with Kylie's sister, Khloe, and her boyfriend, Tristan Thompson. A frenzy of media coverage soon followed, but Jordyn has been relatively quiet since everything fizzled down. As an influencer, we're used to seeing Jordyn sport the trendiest fashion pieces there are.
While many of the fashion pieces she wears are fleeting, media sources saw Jordyn in 2019 with a statement accessory that'll last for the rest of her life. That's right, the 23-year-old decided to inked down a meaningful quote that reads, "what's meant for me will never miss me." Although Jordyn has not gone on record about what the tattoo means, we're guessing that it has something to do with the controversy and issues she faced. Whatever the reason, we're hoping that she's grown and learned from it. One thing is for sure, though, that tattoo was a good use for her credit card.
Jourdan Dunn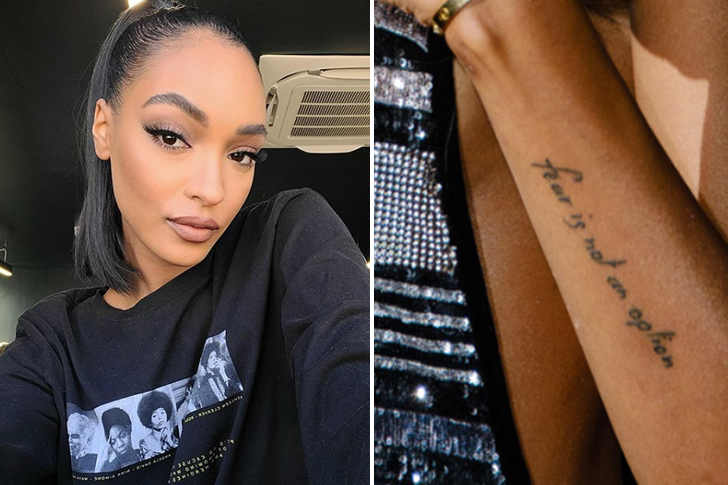 Next up, we have another celebrity who has a few inks on her body. That celebrity is none other than Victoria's Secret angel, Jourdan Dunn. Unlike most models, Jourdan is not shy to place her tattoos in the boldest, most conspicuous areas. However, this is understandable, considering that her tattoos have some deep meaning and cultural significance.
One of the boldest body arts she has is the quote that runs down her left arm, saying, "fear is not an option." Indeed it isn't, especially for a go-getter like Jourdan. The model also has two Egyptian symbols on her body. One is the "Eye of Horus," symbolizing fearlessness and acceptance. The other is an image of the Egyptian goddess Isis on the lower back of her neck, which represents motherhood and love. These tattoos have a significant degree of importance for the model, and it's refreshing to see her be open about it to the world.
Juan Angel Lopez Rivera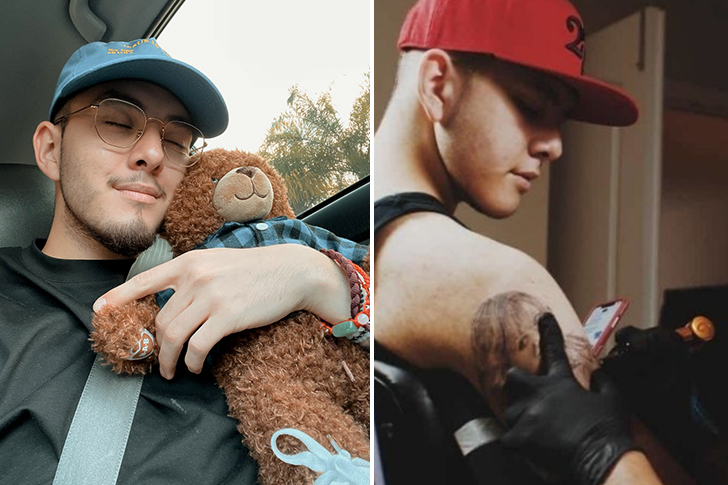 The experience of losing someone dear changes people. That was the case with Juan Angel Lopez Rivera when he lost his mother, Jenni. Juan Angel Lopez Rivera is a Mexican-American singer and actor, best known for Platinum Chisel. The singer/actor had a relatively tough life growing up, despite being a celebrity offspring. Juan was only nine years old when he had to go through the harrowing experience of losing his father.
Then in 2012, just three years after his dad's passing, Juan, again, had to deal with the heartbreaking demise of his mother, Jenni Rivera. The singer/actor was only a mere teenager with little investments back then, and moving forward was a challenging experience. Though he had to go through some turbulent moments in his life, Juan always believed that he has his parents, especially his mother, guiding him. More importantly, this is why he chose to ink down a portrait of his mom on his arm. She may not be here today, but she will always be right beside Juan Angel.
Justin Bieber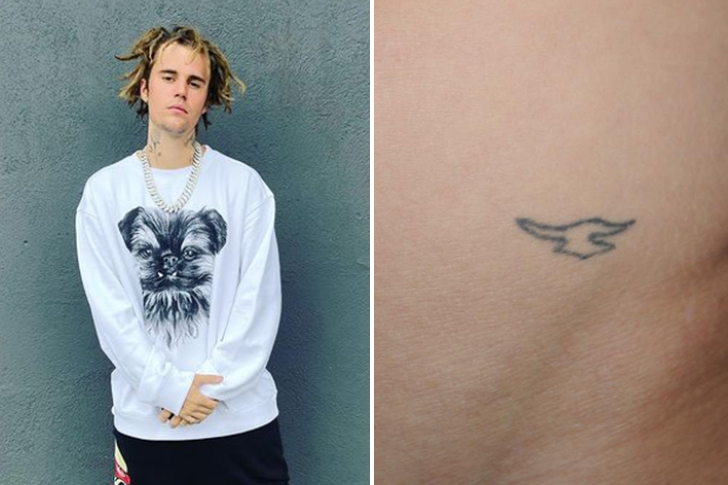 When it comes to elaborate tattoos, Justin Bieber's body is a work of art. With more or less 60 tattoos on his torso, it's hard to tell which one is the most impressive or meaningful to the Peaches singer. As you may know, Justin Bieber broke into the Hollywood spotlight at a reasonably young age and quickly rose to megastardom. By the time he was 16, the Canadian singer had experimented with different ways to express himself. That, of course, involved getting a tattoo.
The singer now has a mirage of tattoos, but the first one is the seagull tattoo on his left hip. The seagull ink is actually part of his family's tradition. According to Justin, his family members typically have it on their wrist, but he wanted to put his swing to it and decided to have it done on his hip. The singer also explained that the seagull in flight symbolizes a person's desire to be more than just what you are now. To a certain degree, Justin's tattoo also embodies his journey from being a simple boy from Canada to being one of the most prominent artists of his generation.
Kaia Gerber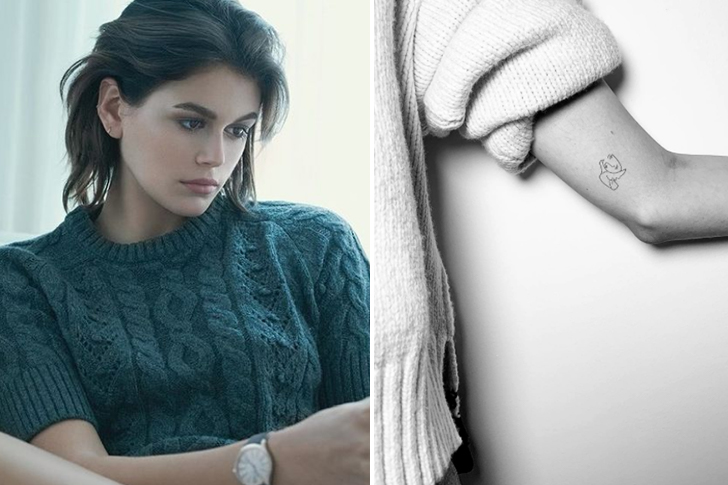 Kaia Gerber is one classy and fashion-forward girl. That same taste extends to her choice of tattoos. Like most it-girls today, Kaia stays away from anything too flashy and would instead go for more delicate designs that are sometimes relatively easy to miss. So far, the model has five tattoos.
The most noticeable ink piece would have to be the one tatted on her inner left arm. It's a simple one that spells out Kaia's second name, "Jordan." Though she has not gone on record to discuss the meaning behind it, we'd like to assume that the tattoo is an ode to her identity beyond the camera. She also has a small image of a lady and a bird on her lower elbow and an angel tattoo on her rib cage. Kaia has spent a considerable amount of investment money on her extensive tattoo collection, and it'll likely keep evolving in the years to come.
Katy Perry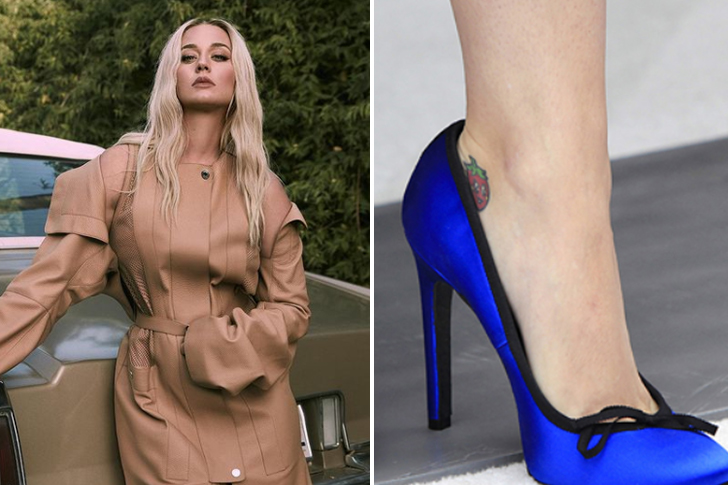 Another pop culture icon with an interesting collection of body art is none other than Katy Perry.The Fireworks singer does not necessarily have a uniform taste when it comes to her tatts, but it sure resulted in a plethora of unique and meaningful pieces. First off, Katy has a Sanskrit tattoo on  her inner biceps that translates to "go with the flow" in English.
However, as fascinating as it may look, it probably isn't Katy's favorite investment. Why, you ask? Well, that's because it's a matching tattoo she got with her ex-husband, Russell Brand. If you've been on the loop about Katy's romantic life, you'd know that her split from the British comedian was not a very thrilling time in her life. Fortunately, Katy has other inks that remind her of happier times, like the prism, galaxy, and strawberry tattoos commemorating her successful tours and albums. She also has a "Jesus" tattoo honoring her Christia faith.