Adele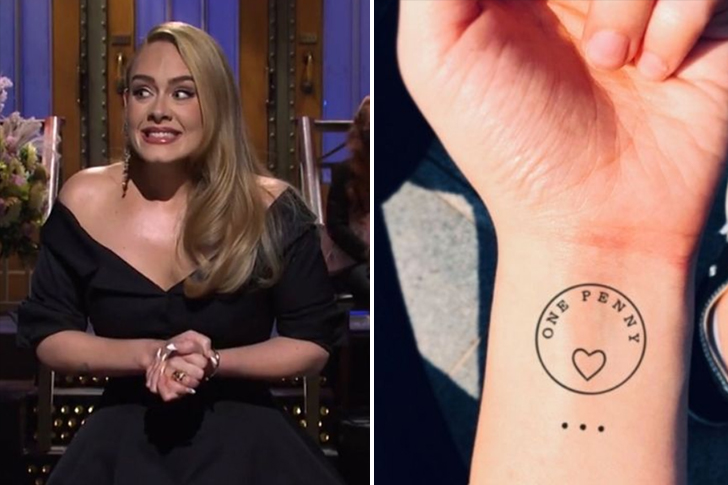 Adele is undoubtedly one of the most prominent icons in the music industry today. Her music career features several Billboard-topping singles under her credit and over 86 music awards! Adele's success in music isn't surprising, as she began her singing career when she was just four. Throughout her illustrious career, she's managed to captivate fans with soulful songs like Hello, Skyfall, and Rolling in the Deep.
Adele's taste in body ink is just as impressive as her singing voice. Adele has quite a few tattoos on her body, including one on her left wrist. The ink shows a circle that has the words "One Penny"with a heart in it. According to this music superstar, it's her way of showing some appreciation to her mother, Penny Adkins. Adele also has a tattoo of the name "Angelo"on her right hand, which is her son's name.
 Adwoa Aboah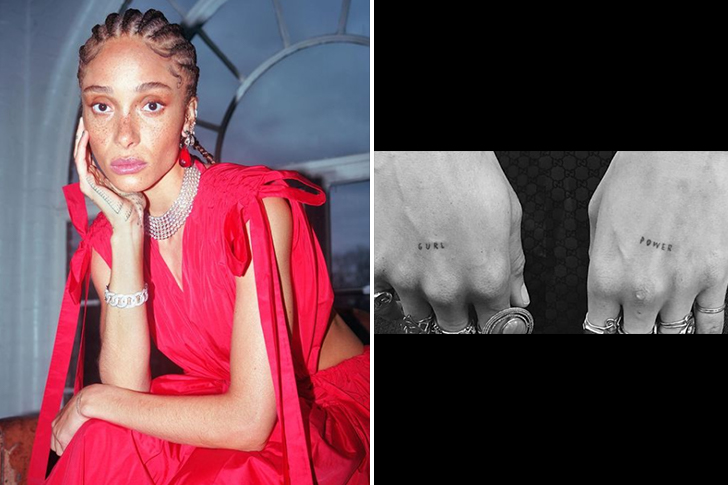 Adwoa Aboah is one of the most sought-after models today. Pursuing modeling was a no-brainer for Aboah as both of her parents are part of the fashion industry. However, she first secured a degree in Modern Drama before she started modeling for prominent brands like H&M, Versace, Kenzo, and many more. You could say that her decision to secure her education before modeling was an excellent idea, as it allowed her to be a knowledgeable, well-educated, and flexible individual.
Besides modeling, Aboah is incredibly vocal regarding her thoughts about mental health awareness. Interestingly, her advocacy managed to find its way into her skin as tattoos. Some of the most significant tattoos on Aboah's body are the words "Power"and "Girl"that are inked on her right and left hands. It's her subtle nod to a mental health organization called Gurls Talk, which helps in raising mental health awareness among women.
 Angelina Jolie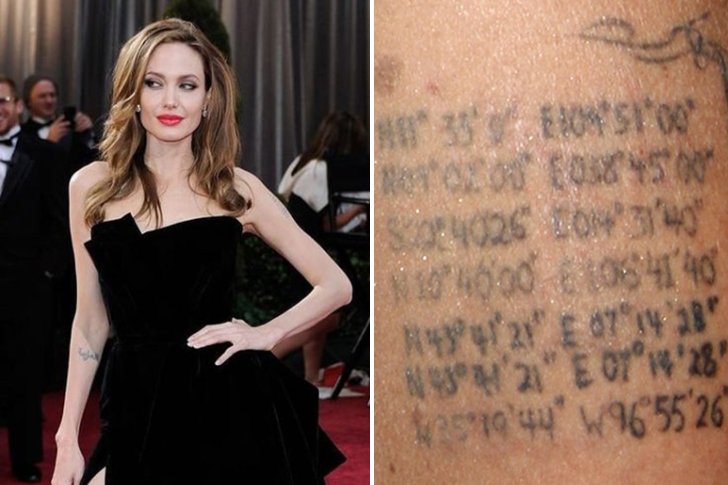 Angelina Jolie is undoubtedly one of the biggest names in Hollywood today. She's been able to accumulate several acting credits in various films throughout her career. Some of Angelina's most notable acting appearances came in films like Salt, Tomb Raider, Wanted, and the Maleficent film franchise. Besides acting, Jolie's also known for her humanitarian work, and she's a participant in various charitable causes.
Off the screen, Jolie is a committed and loving mother to her children. Her tattoos indicate her admiration for her kids, as the ink on her left arm shows a series of numbers. Interestingly, these numbers turn out to be the coordinates of the birthplace of her kids. She also has the letters "H"and "M"inked on her left wrist and right hand. These are the initials for her late mother, Marcheline Bertrand, and her brother, James Haven.
Ariana Grande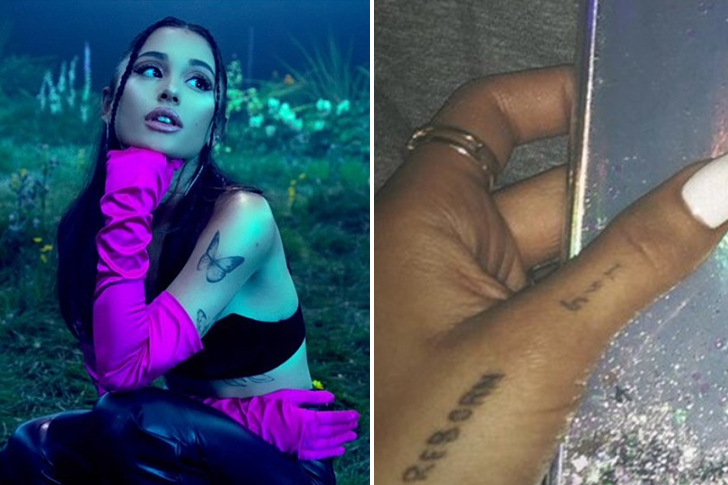 Ariana Grande is undoubtedly one of the most famous icons in the music industry today. She first started cultivating her singing prowess during her childhood days, and it was only a matter of time before Grande got her big break. She got her first career breakthrough thanks to her 2013 album Yours Truly, which catapulted her to becoming one of the best in the industry. To this day, Grande continues to produce and release records at an incredibly successful pace.
Throughout the years, Grande managed to acquire a good number of tattoos. She proudly wears her body ink, including the number "561"on her thumb. Interestingly, "561"is the area code of her hometown of Palm Beach, Florida. She also has the word "Toulouse"inked on her left hand, which is the name of her family's pet dog. Grande certainly deserves credit for her creativity in selecting tattoos that have a special meaning to her.
Ariel Winter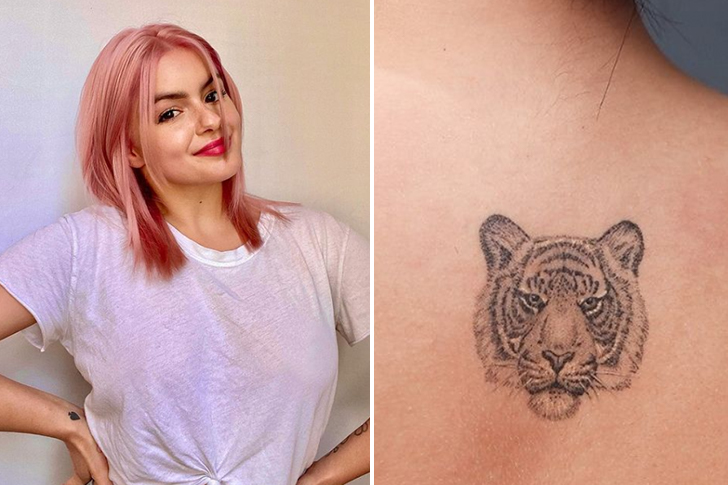 Ariel Winter is a well-known actress who's managed to appear in a good number of films throughout her career. Some of Winter's acting credits include her performance in Modern Family, Kiss Kiss Bang Bang, Sofia the First, and Ice Age: The Meltdown. She also received her fair share of awards and nominations, most notably for her work in Modern Family. Winter continues to appear in films and television shows today, and she's bound for more Hollywood success in the next few years to come.
Everyone, even celebrities, has precious moments and people that they'd like to cherish. Winter's way of cherishing moments and loved ones is through the tattoos that she wears on her body. A prime example is the tattoo of a tiger on her back. She says that it's a great symbol for its reputation to be protective. She also has a tattoo of a phrase that says "Love Risks Everything & Asks for Nothing"on her right hip.
Ashley Benson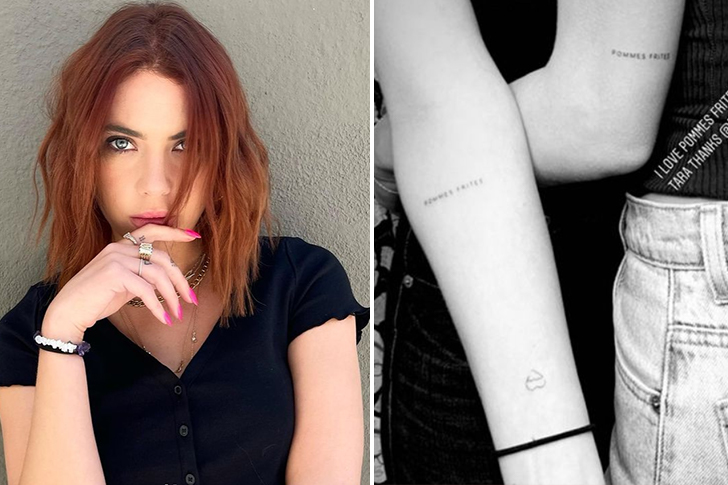 You could say that Ashley Benson's investments when she was young now have finally paid off in the form of her modeling and acting career. She's certainly come a long way from appearing in her debut film Bring It On: In It to Win It. Today, Benson is one of the biggest stars in Hollywood, appearing in films like Spring Breakers, Pixels, and Elvis & Nixon.
It's no secret that Benson is an actress and model with a passion for a wide variety of things. Interestingly, she even looked into a career involving being a tattoo artist. Benson even managed to ink her go-to tattoo artist. Her artist surely didn't have anything to fear about, as she's quite creative herself. Her creativity reflects on the tattoos on her body, which include the word "Pommes Frites,"which is a fancier way of saying Benson's favorite food: French fries.
Bella Hadid
Bella Hadid is one of the celebrities that we absolutely aspire to be like to. For Hadid, her inspiration is none other than her famous older sister, model Gigi Hadid. Before she pursued a modeling career herself, she was an exceptional equestrian during her teenage years. Despite cultivating a successful modeling career, she still manages to remember and follow what she learned during her horse-riding days.
It's no secret that Hadid has been actively increasing her net worth through investments in and out of the fashion and modeling industry. However, she makes sure that she doesn't forget to spoil and focus on herself despite her busy schedule. The supermodel particularly likes to get inked, and she's got two tattoos: a tiny rose on the back of her arm and angel wings on her ankle. This superstar model also recently added two more tattoos on her left and right shoulders. Both tattoos are Arabic writings, meaning "I love you"and the other being "sweetheart."
Bella Thorne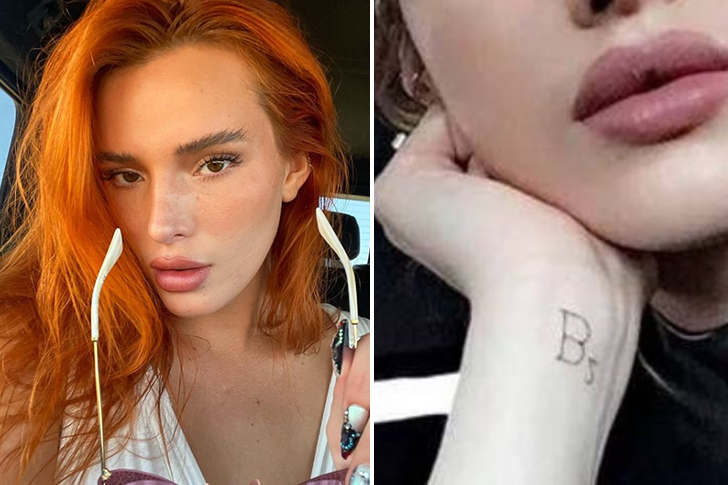 You could say that Bella Thorne is well-adjusted to life under the spotlight. She's one of the most recognizable celebrities today, achieving success in modeling, music, and acting. Of course, success in the entertainment industry isn't a surprise, as Thorne started when she was young. Interestingly enough, she managed to land her first acting credit when she was just six years old, in the 2003 film Stuck On You. Thorne is well-known for her outgoing nature, and it's not a surprise that she has a good number of tattoos on her body.
Today, she's got more than a couple of neat inks in her body, and she's bound to get more designs over the next few years. One particular design that we're interested in is the "B2″written on her left wrist. Interestingly, this "B2″ink is something that her friend Bella Pendergast also has. The other notable ink on Thorne's body is the space-themed ink that she shares with her sister. Her sister wears an ink of the planet Saturn, while hers is a crescent moon with two stars.
Beyonce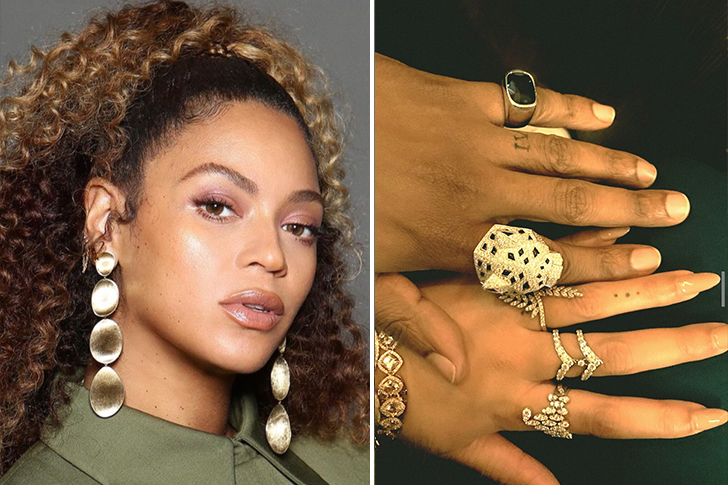 It's not a secret that Beyonce is one of the most popular performers in the entertainment industry today. She's been able to cultivate an incredibly successful music career for herself, and she's sold over 118 million records worldwide. Besides taking credit as one of the world's best-selling artists, Beyonce also managed to win an astounding number of awards and recognition. Some of the awards that she's won throughout her career include 28 Grammy Awards, 24 NAACP Image Awards, 31 BET Awards, 26 MTV Video Music Awards, and more!
Besides working on her music, Beyonce lives happily with her superstar husband, Jay-Z, and their three children. One interesting way that she shows her love and appreciation for them is through tattoos. Beyonce has three dots inked on her left finger, with each dot representing her children. Interestingly, the middle dot is in blue ink, which symbolizes her daughter, Blue Ivy. Besides the three dots, Beyonce also has a tattoo of the Roman numeral IV on her ring finger, which represents the day she married Jay-Z, April 4, 2008.
Camila Cabello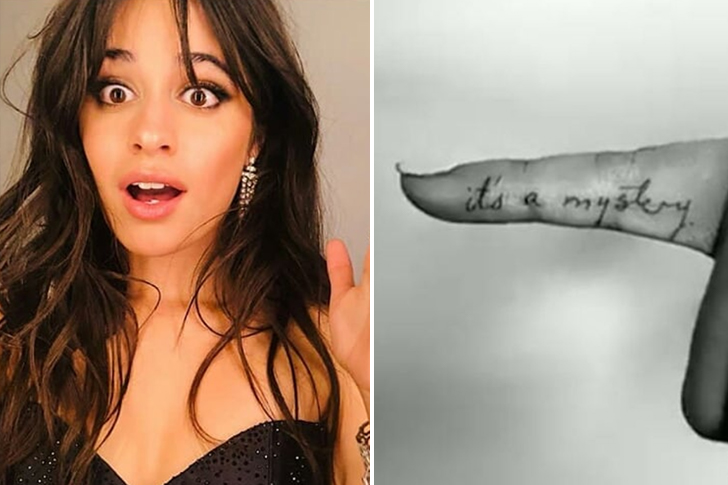 Camila Cabello is one celebrity that rose into prominence through The X Factor. Before she pursued a solo career, she was a member of the well-known group Fifth Harmony. Since then, Camila has been able to cultivate quite a successful solo career for herself. She's best known for her popular singles such as Havana, Never Be The Same, and Crying in the Club. She's even managed to venture out into acting, and she'll receive her first acting credit in the upcoming 2021 film Cinderella.
This multi-talented star also has a tattoo. It isn't clear if Camila plans to add more ink to her body over the next few years. So far, Camila has a tattoo of a quote saying, "It's a Mystery."Interestingly, the line is from her favorite film Shakespeare In Love. The quote is like a pink promise that Camila shares with her mother by saying to each other that things will turn out to be acceptable by the end of the day.