Cara Delevingne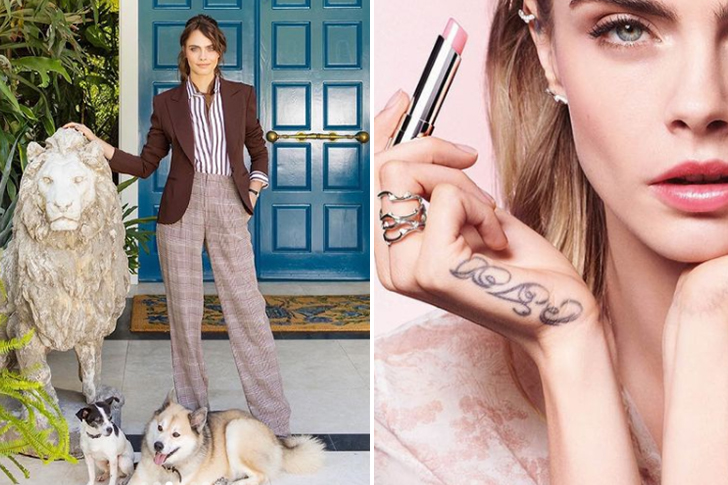 Cara Delevingne is another multi-talented personality that's made it on our list. Besides modeling, she's also managed to explore her passion for singing and playing musical instruments. We all know that she was pretty successful walking on runways for various fashion brands throughout the years. However, it's quite interesting to see a model succeed in other platforms, even acting! Cara's most notable acting credits came in films like Valerian, Anna Karenina, and Paper Towns.
If you're a Cara Delevigne fan, then you'd certainly know that she's an avid enthusiast of tattoos. So far, Cara's tattoos include the initials of her full name, which is "CJD"on her right hand. She also has a lion on her index finger and her mother's name on her left arm. Besides these, she also has a "sole mate"tattoo with her best friend, Kaia Gerber. You could say that Cara's tattoos hold valuable meaning to her.
Cardi B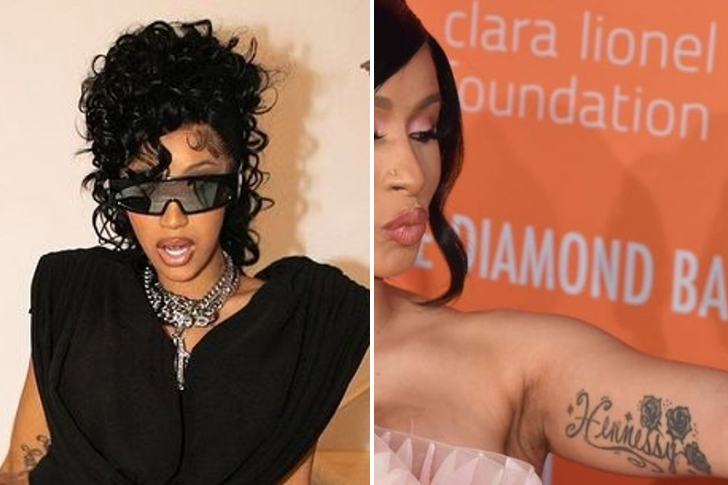 Cardi B is unquestionably one of the biggest names in the music industry today. She's certainly come a long way from working at a food store and as a dancer to make ends meet. According to Forbes, today, she's been able to release several albums, and she's one of the most influential female rappers of all time. Cardi also won many awards, including 11 BET Hip Hop Awards, a Grammy Award, 8 Billboard Music Awards, and many more.
Cardi can take credit as one of the most talented icons in the music industry today. Interestingly, this rap icon is also into getting tattoos. Over the years, Cardi managed to ink a good number of designs to her body. She has a tattoo of her sister's name, Hennessy, that's inked on her bicep. She also has a tattoo of the word "Belkis"on her right wrist. Although Cardi hasn't publicly explained the meaning of this tattoo, some people theorize that it's a play on her real name, Belcalis.
Chase Hudson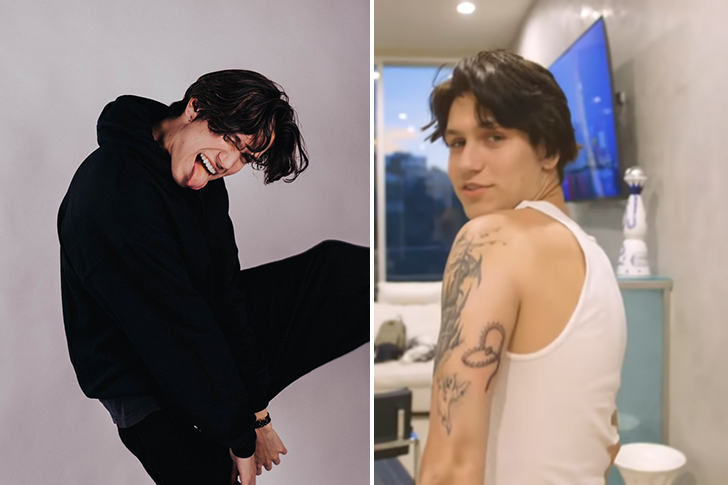 Chase Hudson is a well-known celebrity who rose to prominence thanks to the social media platform TikTok. He's also known as Lil Huddy, and he's undoubtedly one of the most recognizable Internet celebrities today. Interestingly, Chase started carving his path to success while he was working on his degree. Today, Chase is one of the most celebrated video-sharing platforms, with over 20 million followers.
Along with his Internet success, Chase also managed to be an avid tattoo enthusiast. He also posted online that he wanted a tattoo. In turn, he got a tattoo and added more to his collection over time. One of the most interesting ink designs on Chase's body is the one on his left forearm. The tattoo is a castle, and it's quite reminiscent of Hogwarts from the Harry Potter franchise. Besides the castle tattoo, Chase also inked fan art on his body.
Chrissy Teigen
Everyone certainly knows who Chrissy Teigen is. Teigen is one of the most recognizable Hollywood celebrities today, and she rose to prominence with the help of her successful modeling career. Interestingly, Chrissy started modeling while she was working at a surf shop. A photographer then noticed her, and it led to her career immediately taking off.
Most people have their own personal reasons for getting a tattoo. Some may get inked to show their appreciation for the art, while others have a deeper and more personal meaning to it. For Chrissy, it was the latter. She got the tattoo of her son's name, Jack, on her wrist. Unfortunately, her son passed away, and the tattoo played a vital role in helping her validate the pain of the loss. She definitely deserves credit for this heartfelt tribute to her late son.
Dakota Johnson
Dakota Johnson's career began when she was at an early age of ten, appearing in Crazy Alabama, which starred her mother, Melanie Griffith. The young actress then took some time off until finishing high school. And by 2010, she would be cast for a minor role on the film The Social Network. Since then, Dakota has enjoyed her fair share of Hollywood success starring in 21 Jump Street and Fifty Shades of Gray film franchise films. The latter earned her a degree of acclaim, winning a People's Choice Award and a BAFTA nomination.
Some may already know that the Texan actress has a love for tattoos. Dakota even has more than one of them. She has three flying birds on her back, the words Acta Non-Verba, which means deeds, not comments on her left arm, and the word Amor at the back of her neck, among others. Moreover, she has body art tattoos to signify her love for her partner Chris Martin, including an infinity symbol and the words I Love You.
Dania Ramirez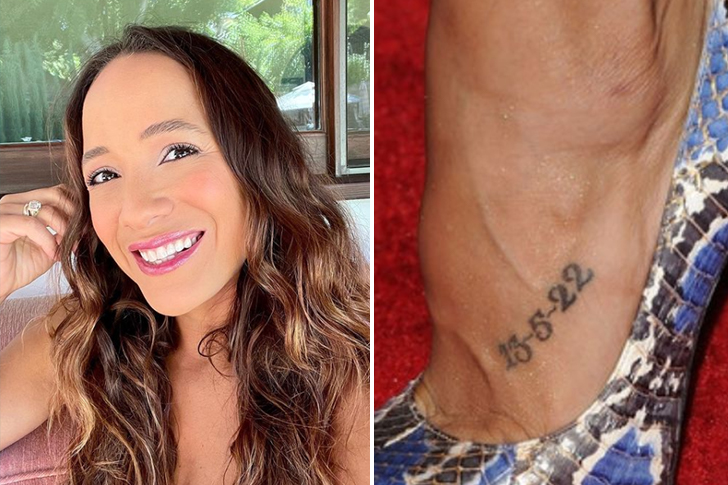 When Dania Ramirez was 15 years old, she was discovered by a modeling scout and received a role in a soda commercial. More importantly, this was her first taste of acting. Eventually, with a bit of investment money, Dania would decide to pursue a career in acting and enroll in an Actor's. Nowadays, the Dominican actress is known for her films such as X-Men: Last Stand and She Hate Me. She would also find success in TV, starring in shows such as The Sopranos, Entourage, and Once Upon a Time, among others.
While other tattoo enthusiasts prefer extravagant and intricate art designs, Dania likes subtle and modest designs. She has a total of three tattoos — her children's names, Aether and Gaia, on her right foot, the numbers 13-5-22 on her left foot, and her right arm, the words Live Love Life.
David Beckham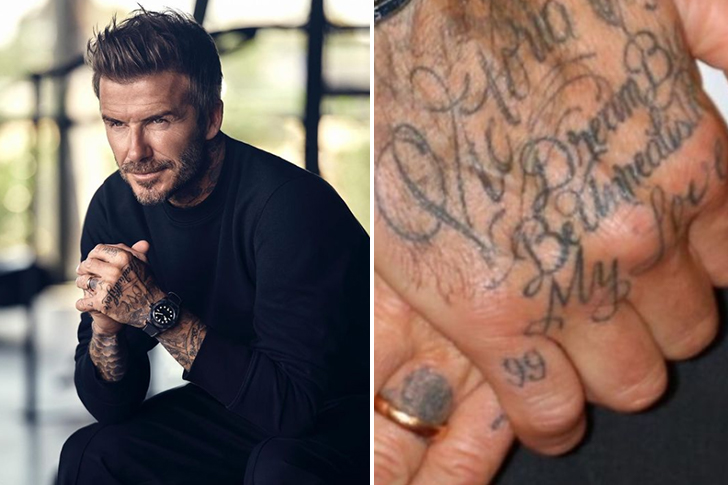 David Beckham is a soccer legend. He has achieved a degree of sports greatness all over Europe, winning multiple major league titles and helping the sports foster in the US in joining the MLS. Moreover, he has represented his country of England in international soccer games, where he boasts 115 appearances for the team. Apart from all these, David has also succeeded in becoming a fashion icon. He is a model as well as owning luxury brands such as his fragrance line.
We can easily tell from David's photos that he is a big tattoo enthusiast. The soccer icon's body features an almost full-body coverage with them. Those in the know say that he wears more than fifty of them. And among those, most notable would be the names of his loved ones. On his neck is the name of his son, Buster, and on his right hand reads Victoria, the name of his wife, and the number 99 on his right pinky, which stands for the year they got married.
Demi Lovato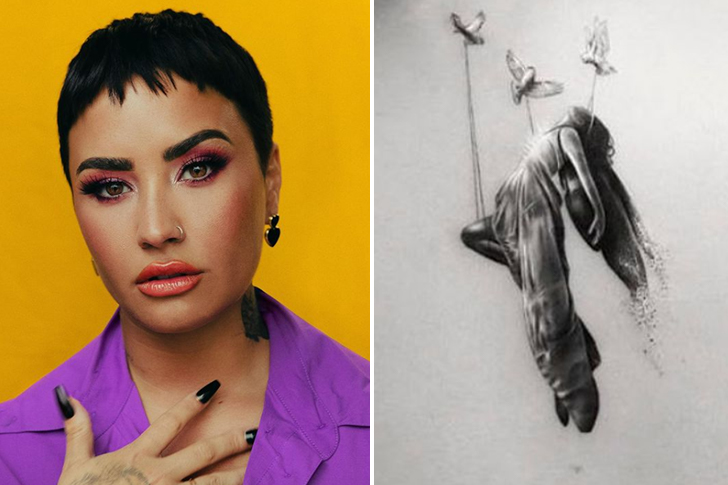 Over the past decade or so, Demi Lovato has built her career to be one of the most recognizable modern pop cultures. She initially achieved a degree of widespread recognition as an actress, starring in the TV film series Camp Rock. After tasting commercial success in performing the soundtracks of the films, Demi would decide to go for a music career simultaneously. And since then, she has released a string of lucrative records and starring in sitcoms and serving as an official judge of The X Factor US.
It is no secret that through the years of the pop star's progress in the entertainment industry, she has struggled with personal issues. Nonetheless, Demi has always bounced back more vital than ever. And to never forget her triumph over her struggles, she commissioned a back tattoo of an angel lifted by three doves. The angel and three doves symbolize the close family and friends that have helped her along the way.
Dove Cameron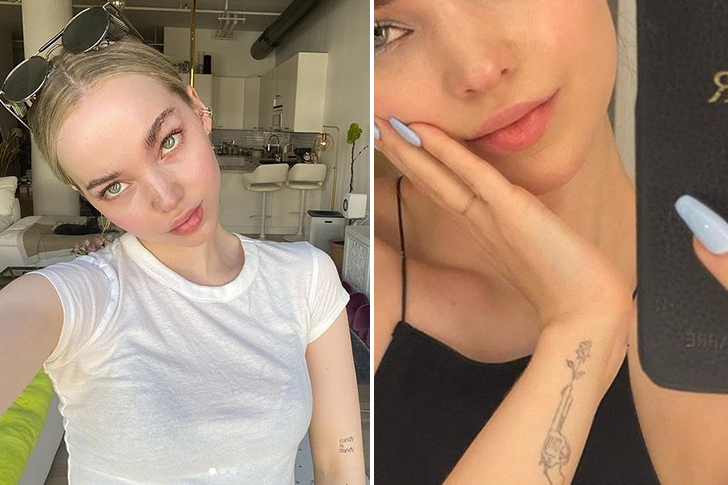 Chloe Celeste Hosterman or better known as Dove Cameron, found her passion for acting and singing at a young age. She started at the age of 8 doing theater and joined her school's choir by age 14. Eventually, her efforts would lead her to receive an offer in Disney's Bit's and Pieces, later changed to the critically acclaimed Live and Maddie. The series would prove to be worthy of Disney's investments as it would gain much-deserved widespread and commercial success. Moreover, Dove's performance in the series earned her a Daytime Emmy Award.
Ever since her teenage years, Dove has always had an interest in tattoos. Among her chosen ink art is a gun firing a rose, a symbol typically associated with peace. The young entertainer also has the words "Immortel,"which means immortal, and A' Naitre, which means to be born, on her wrists.
Drake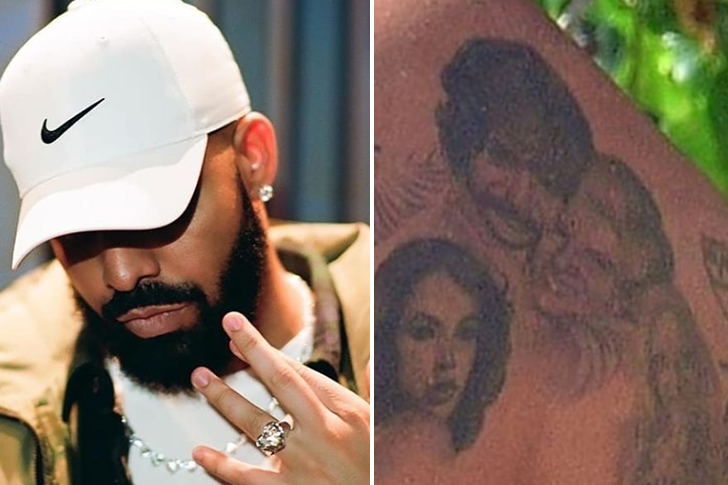 During his formative years, Drake would delve into acting. By the age of 15, he received the offer for the role of Jimmy Brooks in the Canadian TV series Degrassi: The Next Generation. At the same time, Drake would use his earnings from the show as investment money to help out with his family and start his music career. He then released three mixtapes from 2006-2009, which would lead him to a recording deal with Lil Wayne's record label, Young Money Entertainment.
And since then, he has built himself to be one of the most influential and most famous music artists in modern mainstream music.Drake's choice for tattoos is mostly portraits of the people who have inspired him to become a successful musician today. Among the Toronto-native's ink collection is Lil Wayne, Sade Adu, and Boy Better Know.